Mallorca events up to 140 guests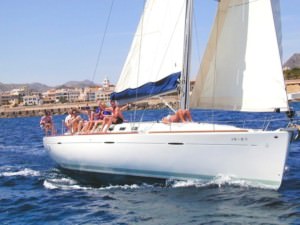 Your individual sailing trip. We offer well tended yachts until 22 m for small to medium seized groups. We do not provide mass events on sailing yachts and catamarans. It is our pleasure to offer them also exclusively for you without any other guests. Enquire without any commitment and we will come up with a tailor made offer for your sailing trip.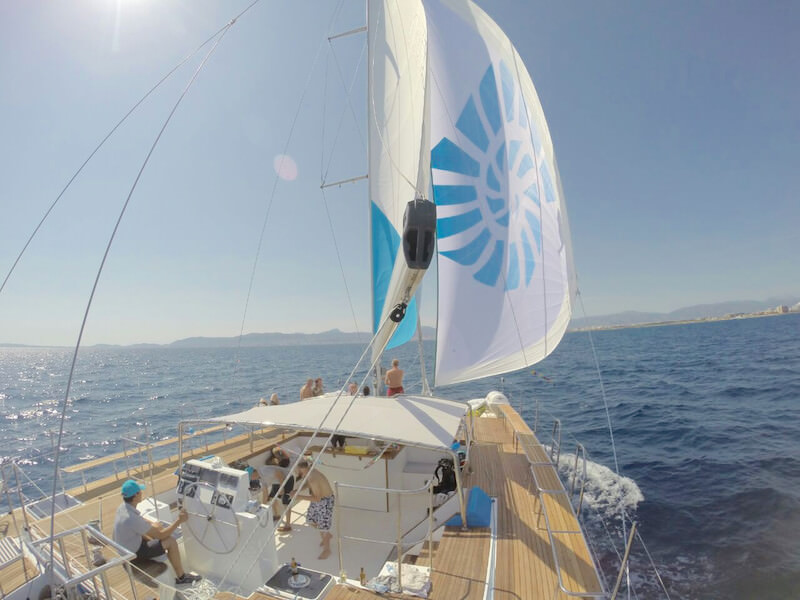 We offer the ideal ship for your major family celebration, business event or incentive, company or club outing or wedding. We support you in organizing the event, including catering, transfer or additional Aqua-Activities while anchoring in one of Majorca's nearby bays. Please, enquire without commitment.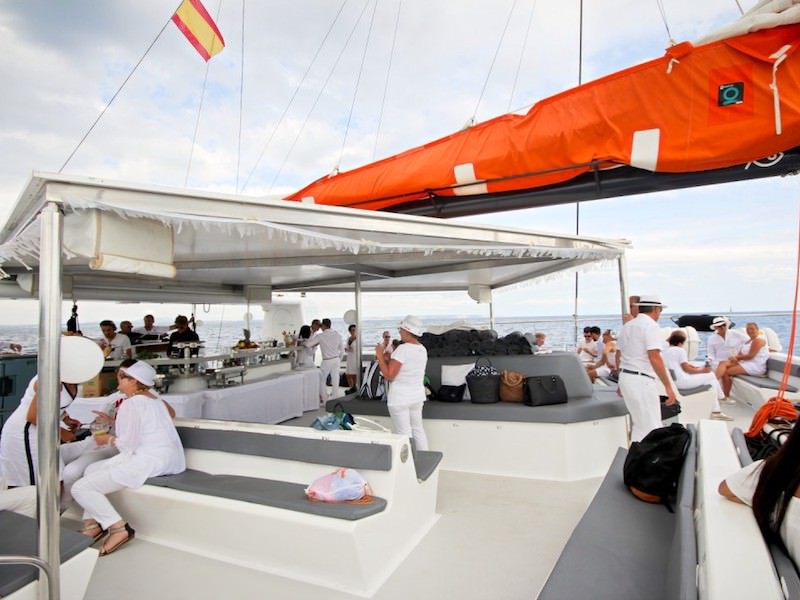 The "Flagships" on our list really offer space for up to 100 – 140 guests. Due to our year long experience in this area and our good local connections, we can assure you of professional planning in the run-up as well as a smooth flow on the day of the event. Just talk to us, and we will provide advice without commitment.
Mallorca day trips on the water for 2 up to 200 guests
Have you not been strolling some time ago along the promenade of a marina on Majorca – maybe in Palma or in Puerto Andratx – admiring the beautiful yachts and wondering "wouldn't it be nice to go on a sailing trip in Majorca?" We do understand this desire, because our passion is precisely sailing around Majorca. And we can make this wish come true.
Wind regime around Majorca / Balearic
Sailing trips around Majorca are basically possible all year round. But we take responsibility for our guests seriously and would by all means advise against a day trip around Majorca, if the weather forecast was too bad. Usually wind conditions are good in the end. ( It is not by chance, that so many sailing yachts anchor in Majorca and the marinas are almost fully occupied, at least during summer) The wind comes mostly from north (the so called Tramuntana or the Mistral). The south wind is called Sirocco and is fairly frequent. Experienced sailors circle Majorca against the clock, using the north wind to sail fast along the west coast towards south. Of course, we will go by your request
A few suggestions for your sailing trip in Majorca
Sailing in Majorca is fun, as the wild romantic nature of the island and her coastline are so diversified. Wouldn't it be great to travel to the most northern tip of Majorca and enjoy to see the Cap Formentor lighthouse? Near Cap Formentor is a marina.
Your day trip could also start in Palma or Puerto Andratx. The harbour of Puerto Andratx is a very nice destination, and maybe there would be time for a trip to the famous dragon island, La Dragonera, off the south western tip of Majorca. The harbours of the east coast make pretty destinations, too. For instance, if you go ashore in Porto Cristo, you can visit the spectacular dragon caves (Coves del Drac).
What is for sure: after your sailing trip you will see Majorca from a different angle.
We are an agency specialized on charter of yachts and catamarans on the Balearics, especially in Mallorca. Our offer for day charter excursions is comprehensive and is being amplified regularly.
We have been operating in this area for many years and are very familiar with our local  Charter Mallorca partners and the local conditions, as we are regularly present on Mallorca. This is why we can attend to our customers in an optimal way locally and support their planning.
Your Mallorca Excursions: it is our pleasure to advise you on planning your celebration, incentive or company event. Catamaran sailing, ideal for everybody feeling uncomfortable on an "inclined" yacht. Catamarans are always in an even position and basically cannot turn over in the local conditions of wind and weather.
On this website we offer our day catamarans, ideal for your private celebration or company event. Offer your guests something extraordinary, not just a visit to a restaurant, but a day on sea. Enjoy Mallorca´s beautiful coastline from the sea perspective, swim and snorkel in the glass clear waters of Mallorca`s natural dream bays, and afterwards be pampered culinary by the crew. The relaxed atmosphere on board, wearing bathing or sports gear, creates a feeling of community, like " everybody in the same boat". Clear blue sky, turquoise waters and good food and cool drinks will certainly make everybody feel great.
We are happy to help you plan your party, your incentive or your company event.
We advise you regarding the "right" ship for your occasion, because we know all the ships on offer "personally". We help you organize transfers and also the catering on board.
In some of the offers there is the option to book additional "fun activities". We prefer to comment on details with you personally or send you an individual personal offer.